Hardwood floor repairs: When it comes to giving your home a classic yet modern look, there's little that makes more overall difference than the addition of hardwood flooring – and for good reason! Wooden floors are easily the most popular and widely used flooring in residential settings. Though carpeting can be quite popular as well, it simply can't compare to hardwood in terms of functionality, durability, and looks.
That being said, hardwood flooring isn't without its own maintenance headaches. They can get scratched, damaged, warped, or faded. And though damage isn't always easy to avoid, there are almost always ways to get it fixed. Let's take a look at some common causes of damage to wooden floors.
The Sun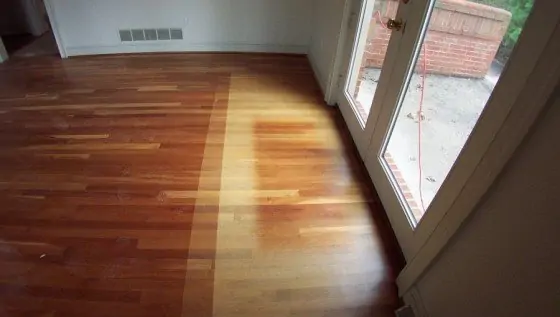 When it comes to hardwood floor repairs, the sun is one of the biggest culprits, yet many homeowners don't realize it. Prolonged exposure to the warmth and light of the sun can cause the wood to fade, resulting in uneven colouration of your floors.
There's not much you can do to prevent sun-faded hardwood floors – it's not as though you can move your entire floor out of the sun! However, keeping your blinds closed during the day (or at least when you aren't using that room) can go a long way in keeping your hardwood floors looking clean and tidy.
Furniture and Pets
Wooden floors can be very sensitive to scratching – especially if you have pets. Dog's nails, in particular, are known to cause scratches in floors. Haphazardly moving furniture can be even worse, causing long scratches in your fine wood finish. When it comes to avoiding scratching your floors, the best practice is generally just to be as cautious as possible when moving furniture – and try to keep your dog's fingernails nice and short, if you can!
"My Floor is Damaged. What Can I Do?"
When it comes to hardwood floor repairs – especially repairing sun-fading and scratching – we believe it's important to consider replacing, not repairing. 
Unless your floor has severely warped boards or water damage, New Creations can come take a look and help you get it fixed. Not only will this save you tons of time and effort, but it can save you a lot of money. Our innovative tools and expert technicians know how to get your floor looking new again! Get in touch today for more info.